What are the Most Common Types of Legal Malpractice?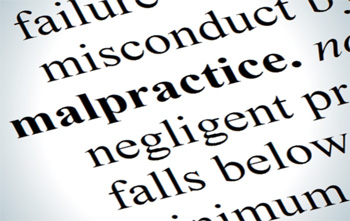 One of the most common types of legal malpractice occurs when attorneys miss important deadlines. Failing to file a lawsuit before the statute of limitations expires will bar the client from filing the lawsuit. Missing the deadline to file an answer to a complaint may result in a default judgment against the client. Failing to timely respond to a motion to dismiss or motion for summary judgment may result in dismissal of or judgment against some or all of a client's claims or defenses. Failing to timely file an appeal or to timely respond to an appeal may impair the client's ability to win the litigation. Missing a contractually set deadline may cause the client a financial loss.
Other common types of legal malpractice that occur in litigation include failing to properly prepare for trial, depositions, hearings, and other legal proceedings; asserting the wrong claims or defenses; failing to make legal arguments that should have been made; failing to introduce evidence that would have changed the client's outcome if introduced; and failing to object and preserve objections to improper evidence or arguments at trial.
Other common types of legal malpractice that occur in business transactions or the drafting of other legal documents include failing to draft a contract or other legal document (e.g., a will) to accomplish the stated goals of the client; drafting a contract that is ambiguous or self-contradictory; failing to explain a contract to the extent reasonably necessary to permit the client to understand his rights and responsibilities; and failing to ensure that all contractual requirements and legal formalities are met for the successful completion of a transaction.
Another type of legal malpractice that has been occurring with more frequency is the attempt by an attorney to cover-up his own malpractice, which may exacerbate the client's damages.
If you are involved in a legal matter in which malpractice is at issue, contact the experienced attorneys of Schklar & Heim, LLC at (404) 888-0100. We represent clients across the state of Georgia, including Fulton, DeKalb, Cobb, and Gwinnett counties.